Experience the Early King Season on the world famous Kenai River with this brand new DVD produced by Exploring Alaska here in Soldotna in 2005. You'll see true Alaskan Adenture. Witness rod-bending action while experiencing the world's best fishing in the Land of the Kings! Savor the solitude of fishing in a pristine wilderness, where turquoise waters produce King Salmon as spectacular as the river they come from!
Exploring Alaska's "Early King Season" $19.95
(Plus $5.00 USPS Priority Mail Shipping & Handling)
The MILEPOST® is the legendary travel guide to the highways, roads, ferries, lodgings, recreation, sightseeing attractions and services along the Alaska Highway to and within Alaska, including Alberta, British Columbia, Northwest Territories and the Yukon.

"I wish guidebooks for all my road trips were as comprehensive as The MILEPOST®."—National Geographic Traveler

Find Trip Planning Help and Frequently Asked Questions about highway, ferry and fly/drive travel to Alaska and Western Canada. Since 1949, The MILEPOST® has been the most trusted and complete guide for highway and ferry travel to Alaska, the Yukon, British Columbia, Alberta and Western Northwest Territories.

Updated annually, The MILEPOST® gives you detailed information on everything from the famous Alaska Highway system to cruising Alaska's Inside Passage.

"The best source of information."—USA Today "The most information you can find in any one book. You can take all the guidebooks listed in this review and still won't get close."—Travel Books Review

The MILEPOST® $29.95
(Plus $6.85 USPS Priority Mail Shipping & Handling)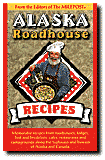 This cookbook provides a taste of the North Country for you or your friends. It features memorable recipes from the roadhouses, lodges, bed and breakfasts, cafes, restaurants and campgrounds along the highways, byways and waterways of Alaska and Northwestern Canada. The cookbook gives you 224 pages filled with appetizers; breads; main dishes; desserts; soups, salads and side dishes; sauces and preserves; and beverages.
You'll find everything from Moose Creek Chicken (originally known as "40-below Chicken") and Arctic Dip to Lowbush Cranberry Butter and Alaska Rhubarb Pie, along with photos and captions that profile some of the personalities and places sharing their recipes with you.
That friendly guy you see on the cover of the cookbook is Chef Greybeard, an Alaskan Bush resident who works as morning chef for Alaska Wildland Adventures' Kenai River trips. He spends his winter months on Caribou Island, Skilak Lake, enjoying winter activities and dreaming up new recipes.
Kenai Riverfront B& B/RV Park has numerous traditional family and Alaskan style recipes featured in this years edition! Be sure to pick up a copy soon for a great taste of Alaska!
Milepost Roadhouse Cookbook $19.95
(Plus $6.85 USPS Priority Mail Shipping & Handling)