Although there is more than one story about the origin of the pasty, the credit for this all-in-one complete meal and lifetime family favorite goes to Jim's Gram Emery, who lived well into her 90's enjoying Pasties in Minnesota. She shared her secrets with me many years ago, and now I pass them on to you. Share this with your family just once and it's likely to become a favorite of your's too.
This is one of those recipes that I've already doubled for you, since a single batch would barely be enough for two, taking into account the craving you'll have the next day for another, whether you're out fishing the Kenai River like us, hiking on a mountainside, or just going to the office! They also make great easy camping and hunting fare and we always enjoy them by campfire for supper on the opening day of Moose hunting! True story.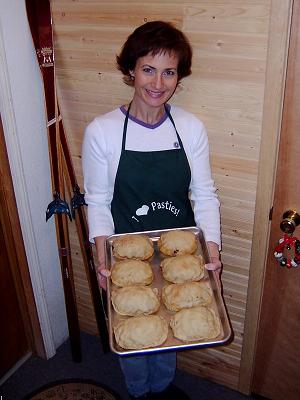 Ingredients:
Crust:
1 1/4 cup flour
1/2 tsp salt
1/3 cup Crisco
3 to 4 Tbs cold water
Pasty Filling:
1 lb moose, caribou or venison steak, cut into bite size portions
1/2 chopped sweet onion
3 carrots, sliced/chopped small (about the size of a penny)
1/2 rutabaga, grated
4 med. potates, chopped small (about the size of a penny)
Preparation:
| | |
| --- | --- |
| | |
| I usually start my Pasty project, and it is a bit of that, by making the pasty dough the day before. It seems even more responsive and pliable as it ages a bit overnight. Wrap it with saran and store at room temperature. | The first step the next day is to start peeling the potatoes, carrots and rhutabega. Assign this task to the younger members of your pasty team! Afterall, if they want to enjoy their share... |
| | |
| Next, rinse & chop the potatoes and carrots into nice uniform slice-chunks, the size of a Wheatie, not too big or small, and not too jagged on the edges. Like this! | Chop the onion, cube the steak, and season together in a bowl. We use Lawry's Seasoning Salt with Black Pepper as well as Lea & Perrin's Worcesteshire and McCormick's California Style Lemon Pepper to be very specific. |
| | |
| Grate the rhutabega (mostly so the kids don't even know it's there!). Add to the other chopped veggies in a big bowl and mix together. | Now, time to divide the dough into 8 tennis ball sections and roll out into uniform thickness, roughly oval, and nearly the size of small dinner plate. This takes practice. Place each portion of dough on a sheet of foil. |
| | |
| Add the meat to the veggie mixture and mix well. Spoon this filling mixture onto half of a pasty dough portion, the half nearest you. Top with a small slice of butter. Fold the upper half of the pasty dough across the filling, sealing it with a touch of water on your fingers, and crimp the edge from one corner to the next to seal the pasty. | Finally, ready for the oven! Bake on a baking sheet for almost 1 hour at 350 F and prepare your family for the overwhelmingly hearty soulful smell of the pasty wafting through the house and toward your envious neighbors! |
Now a little aside...about the prerequisite condiment for proper Pasty consumption. There has been much debate over the years, primarily between the Finn's of Minnesota's Iron Range and the Finn's of the U.P. (known as Yoopers), but in our house, Heinz Ketchup, and only Heinz Ketchup is the "Pasty Sauce" of choice. No gravy, no eatin' them dry, no hot sauce. Good Ole' Heinz Ketchup. Some dribble it all over the crust, some massacre their beautifully constructed Pasty (supposedly to cool them more quickly), and some just dip. I used to be a drizzler, now I dip, my husband dips, and some day we hope our kids will be dippers too! What does that say about us!?! Nothin' in particular...
Also, if you're ever out travelling in northern Minnesota or the U.P., be sure to look for Pasty's at the following locations: old fashioned hometown bakeries (usually on Thursdays for some reason), Church bake sales, diners, drive-in's, freezer sections, and the home of any miner, logger, or person of Finnish or Cornish decent. And when you visit us in Alaska, just ask and we'll be sure to "Put a Pasty in da oven for ya, you betcha!"
Portion out the dough into about tennis ball size sections (you should get about 4 or 5), then roll them out into an oval shape. Scoop enough filling to fill about half the oval of dough. Place a little piece of butter on top (about 1/4 tsp), sprinkle with salt and pepper and fold the top half of the dough over the filling and attach it to the bottom section of dough. Use a little water to seal it together. Wrap up in tin foil, place on a cookie sheet and bake at 350 degrees for 50 minutes. Then open the foil and cook an additional 20 minutes or until crust has browned just a little. Top pastie with Heinze ketchup and eat every bite.
After making these just once for your family and friends, you'll probably want to double the batch from then on. I always make a double and nothing ever goes to waste.