Seward is synonomous with Silver Salmon! Every August the waters around the port town of Seward, Resurrection Bay, come alive with anglers pursuing the biggest fish and the grand prize worth thousands in cash! Homer has the Halibut Derby, Seward has the Silver Derby. The fishing is predominantly boat fishing, with one of the many guides operating out of the Seward small boat harbor. If you want a seat on one of the boats be sure to Book Early in the season with Kenai Riverfront Resort.
One of our top recommendations is a multi-species fishing trip out of Seward where you have the opportunity to catch Silvers, Rockfish, Sea Bass and the highly prized and delicious Ling Cod. Contact us for more information on booking a trip like this during July or August.
Click below for more information on the Seward Silver Salmon Derby for the coming season: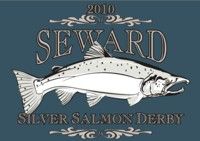 In late summer each year, Resurrection Bay fills with tens of thousands of Silver Salmon and the city of Seward and the Conference and Visitors Bureau prepare for the Silver Salmon Derby held in August.
One of the oldest and largest fishing derbies in the State, Seward's Derby is equally popular with locals, other Alaska residents, and visiting anglers from around the nation and world.
Entrants simply purchase a daily or season Derby ticket, and may enter their fish caught from shore or from a boat. For anglers with a boat, Seward provides two boat launch areas located at the harbor. For our boat-less visitors, try one of the dozens of professional charter services available for hire for half day or full day excursions.